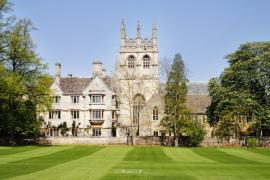 How to Choose a University in Europe for Your Masters Degree
15Oct 2015
Once you complete your Bachelor's degree and graduate university or college, you will have a variety of choices to continue your education. When looking for a Masters degree, you should be careful about what you pick as this is a choice that will give you a speciality in a particular field, and so you should be properly educated on the matter. This means carefully going through all your options for a university and choosing the best one, the one that will give you that extra push you need to become an expert at what you do. But how do you go on doing that? Of all the universities in Europe, how do you choose the one that is best suited for you? Do you simply choose speciality and wing it? Or do you do a comprehensive research, leaving no points unchecked? The latter would be a better option, but yet if you want a proper choice and still have time to research moving companies as well, then here is what you need to check.
Reputation

Even without going on the web and reading what millions of people think about a certain university, you can still ask people around. The more reputable educational centres will already have a popular opinion about them, and here and there you can hear smaller gossip. Whatever you choose, you need to be aware of the reputation of the facility and what people think of it as, in the future, employers will judge your capabilities by where you come from. If you end up in a university with a negative reputation, then you will be an unpopular choice when employers start browsing CVs.
Rankings

There are a huge number of sites that deal with ranking universities. Some are global, some are local. Some are personal opinions, some are made by the objective opinion of the facility's very government. Some of these rankings may be useless to you, but what you have to learn from them is the overall state of the university you want to pick. The website you definitely need to visit is www.topuniversities.com. This website will give you information about every single university across the globe, ranked and analysed in terms of the quality of life in the city, the under- and postgraduate students, the quality of the facilities, subject rankings, and more categories which will all be accessible to you. When picking a university in Europe (or anywhere else in the world) this website should always be at hand, and should become your best friend and trusty advisor.
Facilities

The quality offered in the facilities of the university is of great importance. Even if you have already checked the rankings site from above, you should still definitely visit the university and make your own inspection. Since there might be relocation involved, this is a huge decision to make, and you should not make a decision based on pictures, articles, and popular opinion. Even if it is in another country, save money, make time, and make a trip to there to observe what university life in that country and in that particular university looks like.
Societies

As you should be well aware, universities have different societies going around, offering different lifestyles. Beside all else, you should also check out the societies of the university you are most tempted to apply for to see what kind of communities you will be able to join or create yourself.
Gather as much information as you can from different sources and create your own database for every university you target as a potential place to get your Masters degree. Do not slack off as you collect the data since moving house to any place outside your comfort zone will result in you facing many unfamiliar situations and you need to be prepared for everything that is to come.