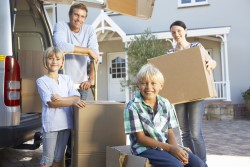 Advice For Quick And Easy Office Removals
16Jun 2015
An office move is never an easy thing to get right. There's so many things that you need to consider; the location of your new office, how much the move will cost, how the move will influence your business, not to mention how to fit everything that a move entails around an already hectic work life. Despite the complexities and effort that an office move involves, there are certain measures that you can take which will hopefully make the entire process a whole lot more manageable and ensure that you get the best possible removal service.

1. Make a moving checklist.
Before you get down to all the nitty gritty details of your office move and you begin calling up removal companies, make sure that you're completely and one hundred percent sure what you want to get out of your moving company. List down what you're after in order of importance, and then address each of these points when you begin doing your research and calling up potential moving companies.

2. Find and book with a quality removal company.
There are plenty of companies out there, so don't just settle on booking with the first one that you come across. Find a company that will deliver you with exactly what you're after, and settle for nothing less.

3. Be business savvy and ask about any special offers and discounts – anything that will knock a few pounds off the price of the job!
When making your calls and whilst enquiring about removal services, don't forget to ask about any special offers or discounts they may have to offer. If you book a combination of services, such as removal and packing services, you could save yourself some money when purchasing packing materials. Alternatively, if you're flexible with your move, you may be able to save some money by changing certain aspects of your move, such as the time of the day at which you hope to depart, whether you're willing to help out with all the lifting etc. Avoid peak moving times (weekends, early mornings, late evenings) and depart in the middle of the day, and you may be able to hire a cheaper service. If you're willing to get stuck in with loading up the removal van, and possibly get your friends to give you a hand, make sure you tell this to your company so they won't have to send out an entire team of crew members which you'll be paying extra for. It's little things like this that could make your office move a lot more affordable, so use your business acumen and keep this aspect of your move in mind when calling up companies.

4. Only have a few filing cabinets and an old desk to move? Consider man and van hire services.
These small type firms are absolutely perfect if you only have a few times to move. In the majority of cases, the transaction is also very straight forward with these companies, with many of them happy to take cash in hand. But keep your wits about you and don't get drawn in just because you see the low prices and that there'll be less hassle with any paperwork. You still have to ask the right questions; about insurance, security, ask for references etc. If you've got any expensive office equipment, such as office electronics, or if you're transporting files containing confidential documents, it's advisable that you spend a little bit more booking with an experienced company. So think about what your possessions are worth and in the worst case scenario, think about what it will cost to replace any damaged items.