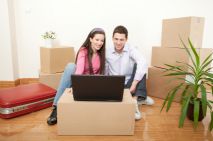 Your Move with Teenagers To W12 Area in London
20 August 2014
Moving house is a big opportunity to start things fresh and do some things differently. Even just decorating your house or flat in a new way, putting more designer thought into it and getting rid of the clutter, is a great change that will bring a new feeling in your life. When you are moving to the area with code W12 in West London, you are perhaps considering the housing in White City and Shepherds Bush. This is a nice area, that's rather central and has all the facilities you need. If it's the first time you will be living in London, then it will be stressful, but also really exciting.

Moving on your own is one thing, but moving with your entire family is a whole different story, especially if your children are teenagers. Even one of the greatest cities in the world won't be enough for some teenagers to accept the fact that the relocation is inevitable and they just have to adapt to the thought and help out. Teenagers go through all sorts of emotions when they have to change their school, leave their friends and neighborhood and start completely anew. That's why it's a must to let them know as soon as possible, even if you don't know the exact moving date. This way they will have sufficient time to deal with the thought and if you are lucky, they could even help out in the moving process. The initial communication stage is not easy for anybody – your spouse might not be happy either, but let everyone know that there is a lot of work to be done. When you have to organize a house move and prepare a checklist, the last thing you want is lack of support, but when it comes to teenagers, this is most usually the case. Try to get them involved in the process. The first thing to do is one of the most important – choosing their new school.

This is not an easy decision, especially if they will have to commute in London. Unless you find a good school in the area you are moving to, they will have to accept the fact that the school won't be two blocks away. London is a big city and living there is exciting and terrifying at the same time. However, this city will offer each member of your family bigger opportunities and your teenage children need to be aware of that. Another important stage is discussing the future house or flat and what will be packed, as well as what should be thrown away or put in storage.

Discuss any details on the blueprint of the future home and accept your children's opinion of their rooms. Give them the freedom to arrange their rooms and choose the colour of the walls. When you start packing, don't pry too much, as that's one of the things teenagers feel strong about. Give them the moving boxes, explain how they should pack and label and let them do the most of it. Don't try to go through their belongings, but let them know that they must decide what to throw away, especially if there are items they don't use anymore. On the moving day, let them help as much as they feel like and don't pressure them. These tips will help you have a great move, one that is stress-free and easy for everyone.