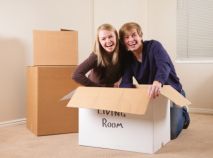 What to Expect when Hiring an International Removal Company
20 August 2014
Making a move abroad is a big step, and will require a lot more organisation than anything you might have experienced beforehand. One of the most important aspects of any international move, and one that you will want to get sorted as early as possible, is choosing an international moving company to get all of your belongings to your new home. Hiring international movers does have some elements in common with hiring removal companies which you are probably already familiar with, but due to the nature of an international move, there are also aspects that you may not have thought about or encountered before. Below is some advice on what to expect and look for from potential international moving companies.

Finding the Right International Movers for You
The first thing to consider is the distance of your relocation. While this probably won't affect the transport method of your goods (moving internationally from the UK will always require air or sea freight, for example), it will determine how long your items will be in transit. The speed of delivery will also affect price, so you will need to carefully consider how you will time your move to coincide with your goods arriving as best as you can. Generally, when finding an appropriate moving company, you should approach the task as you would any other service. Ask around any friends, family or acquaintances you know who have moved abroad recently, and ask them for any recommendations or advice on which companies they were satisfied with and what to look for. You should also check the internet for customer feedback on any companies you are considering. Ideally, you should try to narrow down your search to a handful of companies before contacting them directly to compare quotes and prices.

Quotes and Pricing
Don't simply book the first company that you contact, as you may find that one of the other companies you have selected may offer a better deal. Instead, call around each individually and get estimates, before taking your time to compare services and prices until you are happy with making a choice. It is also worth bearing in mind that when it comes to moving internationally, then you may want to pay a little extra for a faster service, as this may be more convenient. Don't be afraid to spend a little more to make sure you have peace of mind – the last thing you want is to have items going missing while in transit, as they can be very difficult to locate and could add a lot of stress to an already taxing relocation.

Being Prepared
Depending on the distance of your relocation, you should also expect to have to wait a fair amount of time for your household goods, and it is often very difficult to time your arrival with that of your household goods at your new home. It is not uncommon to have to wait a month or perhaps more if you are moving very far away, as international movers will be transporting your items via cargo ship in containers more often than not, and as a result are at the mercy of trade shipping timetables. You can easily remedy this by making sure that you take an essentials kit with you – things such as a basic supply of clothing, toiletries, cooking equipment, a kettle and so on. This ensures that you will have all the basics you need for day to day living, and won't have to spend extra money in your new country of residence on things you already own.