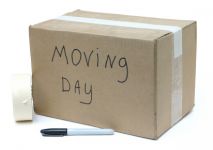 Tips on how you plan your move
20 August 2014
Firstly, begin the preparations for the move in advance. Nothing is as bad as a move in which half of the items are still not packed when relocation service arrive. By initiating preparations as soon as you can you will avoid the stress that too often goes hand in hand with a move. Stress is unnecessary – but will probably still be there – especially as a move for the most part does a step towards something better.

Engage your friends and relatives in advance so you don't have to stand there alone when the day arrives. Make sure they have plenty of food and drink when helping you to pack or move. If helping people go home hungry, you can expect that they will not be available the next time you need help.
Moving boxes should really not be replaced by big blue plastic bags and shoe boxes. You will need sturdy, stable and uniform-sized moving boxes; this is the best thing you can do if you do want to save yourself the pain.

Also try to get access to your new place before the actual moving day. In that way you can independently move potted plants, table lamps, paintings and other items that are difficult to fit into a removal box, plus if you can do this before the Day, great. It saves time during the actual move. By doing this and moving all the fragile things to the new place before the actual day you will not have to be worried that someone will break that antique vase you got from your great grandmother. This way everything will be in place already, safe and sound, given, of course that you keep them away when you move in.

Pack the moving boxes so that they are evenly heavy. The heavy items should obviously be packed first, while light and fragile things are to be placed higher up in the box. Over packed boxes will cause trouble for everyone who handles them – and for the boxes for that matter since they will most likely break. One tips is to not to pack books – that can be very heavy – into boxes since they will be impossible to carry. Pack them into paper bags with handles, that way, even if they are filled, anyone will be able to carry them.

Pack glass and other brittle carefully. Obtain sufficient tissue paper for all glass since newspaper easily will rub the ink off. You want to be extra careful – wrap into tissue paper and then put them in smaller boxes, such as shoe boxes and put these into the removal boxes. The advantage is that the extra box protects the glass against gravity and shocks. It is also important not to pack too tightly.

Before you start packing, it's good to go through all the cupboards, nooks and bins to dispose what you no longer need. Nothing is more stupid than moving with things you do not have use for. Throw nothing others can use, give it to them instead. Clean the rooms you leave. Clean them thoroughly. This requires that your move is organized; otherwise you will inevitably do everything at the last minute which is never fun.