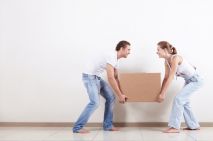 Smart Home Owners Choose Man and Van
20 August 2014
Moving home is no small undertaking, and in addition to being organised and making sure all you're packing is done is advance, you will need to make sure you have a reliable moving team to help out on moving day. While some people do prefer to attempt a move themselves, it can be very hard work, and you also risk injury or damage to your items, especially the heavier things such as kitchen goods or furniture.

How can a man and van help?
Having a man and a van on hand for any size of move, especially smaller moves where you may only be moving a comparatively short distance can be very beneficial. In this kind of moving scenario, you can often save a good deal of money by using local man and van services. This is because man and van operators will often be a lot more flexible than a removal company – removal companies tend to charge their rates by the day, which means that you may well end up paying for service time that you don't use. An example might be an inner city move, where you are relocating to a property only a few hours' drive away at most, and don't have a large amount of items to move. In this situation you will probably have everything relocated in a few hours, meaning that you will be paying for a removal service you don't need.

Flexibility and value for money
In contrast to a removal company, a man and a van has the advantage of flexibility and possible cost effectiveness in a smaller move as we have demonstrated, but their usefulness doesn't end there. Even if you have a larger move planned, having an extra, more flexible vehicle to hand can be perfect in the case of emergencies or last minute removals. Often, man and van services will be happy to work outside of standard removal company hours, which means that you don't need to panic, or pay for another full day's service if something gets forgotten or left behind at your old property on moving day.

By taking advantage of the flexible working hours, you can also do fast runs of valuables; send some items to storage while your removal company deals with the bulk of your move. Again, don't make the mistake of thinking a man and van will only be of benefit and value for smaller moves – they can be invaluable for any large relocations too.

Additional help for DIY moves
As mentioned, trying to organise and execute relocation yourself will be very stressful, both physically and mentally. Once again, a man and a van can be a great additional asset to this kind of situation. When it comes to having to deal with heavier items, you will have a trained professional or two on hand to help out, which greatly reduces the risk of damage or injury to you or your items. Additionally, man and van operators are often much better at packing vehicles to maximise space, ensuring you keep the number of trips required to a minimum and as a result saving money. The more personal nature of a man and van service should not be overlooked either, as it can be much easier explaining your moving requirements directly to the person who will be helping you to move them, where instructions are less likely to get lost or misinterpreted from a phone operator to a removal team, as could be the case with removal companies. Overall, a man and a van is a truly invaluable aid to have on your side when moving day arrives.