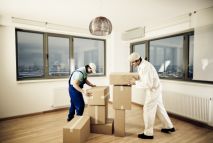 Removals to Lyon are Worth the Cost
20 August 2014
When contemplating the vast expense of moving to another country, one way or another, you will eventually find that removals to Lyon are worth the cost of hiring an international moving company. It way seem like the largest expense out of the whole set involved in the move, but you will ultimately discover that the price of moving house is there for a reason; there is so much that can go wrong when you are moving house, that the expense of getting a company who know what they are doing to get the whole lot sorted becomes completely worth it in the face of the costs of getting it all wrong and having to pay to correct your mistakes. When you are moving abroad you will find that this way of thinking is even more important. When you are moving to France, you will find that the organization of shipping becomes that little bit more difficult due to the language barrier, and the fact that you will have to coordinate the shipping of so many bulky items of furniture alongside your own movements, so that there is someone on the other end to receive the items, makes everything pretty difficult.

Imagine the situation; you have decided to do the shipping of your whole home to Lyon yourself. Firstly, you will have to find the best quotes, and work out the correct way of doing everything in order that your transit is safe, secure and cost effective. You will then have to arrange the dates of the pick up and collection to work with your own travel, as otherwise you will be paying for storage, or you may have a few nights without a bed in your room! Once you are at your home, yo need to be around to accept the delivery of all of your items, as well as doing all of the moving of heavy furniture.

If you hire an international movers, then all of the organization, moving, timings and everything else that can cause a problem will be sorted for you. Sure, you will have to pay more, but it will likely be a cost that rules out the need for any extra payments, like that of paying for storage while you are getting to the new place, which will also be difficult to sort out, unless you happen to be fluent in French already. This is the main issue; you may organize everything perfectly, but if something should go wrong at the other end of the move, will you be able to find out what has happened and sort it out in time, if you don't speak the foreign language? I can't think of more of a nightmare, than losing an expensive sofa in amongst France's various shipping terminals, and trying to locate it on the phone to people who I don't understand, especially while trying to get settled in to a new house! You may have lost luggage on a plane before, imagine loosing your whole house's contents!

In all seriousness, Moving to Lyon is a fantastic way to spice up your life and get out of the miserable weather of the UK, but all that can be overshadowed by the costs of rectifying the mistake of not paying for an international removals company, who have the knowledge, experience and languages in order to be able to make your move so much more easy and efficient!