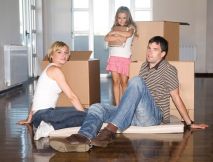 Plan your International Move to France before Hiring a Man with a Van
20 August 2014
If you are planning a relocation to France then you will be very excited about all that comes with it. A new home, a new way of life, a different culture, varied surroundings, new people and much more. Moving to a new home will involve many steps that are all necessary and demanding. From planning, packing, heavy lifting, transportation and more, it can all be complicated if you are just relocating to a building just down the street so if you are moving abroad then things will be much more difficult.

In order to obtain the best and simplest move then you should hire a removal Man and Van team. This will take care of many aspects of your removal, such as overseas transportation, storage facilities and more. The move cannot be done without their help, so you should inquire into and hire such a firm today.

Before they can come in and help with your move though, there is a lot to take care of. Moving from the UK to France will be tough transition and you must be able to complete things properly and ensure it all goes smoothly. This first thing you should do once you have chosen a new home is to contact the current owner and visit it several times. You must see it for yourself, so check every inch of it to see if it is safe, clean and in good quality. See if it will have all the facilities, space and rooms you require and ensure it will match you lifestyle. If there are any problems, you must be made aware of theme immediately and the faults must be fixable.

You should also explore the local area so that you can learn more about it. It should match you tastes, so that it will be a place you can be happy in. It should be a safe community, lacking rime, vandalism, litter, etc. You should take this opportunity to talk to the locals so that you can get a firsthand view of the place, which will be an honest option. While here, learn where important places are such as hospitals, fire and police stations, banks, shops, schools, transport hubs and so on, are.

There are many things to take care of before you move, starting with paperwork. You will likely have countless forms to full in, so take your time when completing them so that they are done correctly. Ensure they are sent to the proper places when completed and be sure to keep a copy for yourself. Learn about your new area as well, such as its customs, and events, as well as practice the French language so you can speak with others easier. Check any customs and laws that differ from the UK so you are repapered for them.

Once all this is complete your Man and Van service can get to work. Hey will help to sort all of your goods and pack them up. This will ensure all your goods will be safe, clean and can be easily conveyed. They will handle large furniture and every container, transport it from your address and send it overseas to your new abode. Hey may offer storage facilities in both countries that can be very useful and they possibly will transport you from the airport directly to your new address.

A Man and Van service can make a removal to France simple, but make sure you engage in all the proper planning as well, to ensure a successful relocation.