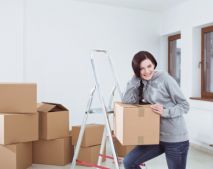 New Horizons: Moving To Europe
20 August 2014
When you think about moving house, do you think to just another place in the UK? Or even just another place in London? Try imagining yourself in a wooden chalet in Latvia, with your own forest and acres of farmland. That's the sort of life you can afford by selling up a small flat in London. If you work remotely, there's no excuse for being stuck in an expensive house, struggling to make ends meet. Working on the internet is the greatest freedom life allows, so if you have that freedom it means you can go anywhere.

London is one of the most expensive cities in the world. Even living in the most remote suburb in a shared house is expensive. For that price, you could rent a three bedroom house in the midlands or even save up a little bit for a luxury flat in Poland. In most countries in Europe, as selfish as it is for us Brits to assume, the language barrier won't be that much of a problem. Most of the countries in Europe can speak English enough to sell you your fresh vegetables or even hire you for a job. There are more barriers in your head than there are in real life, there is a whole world of possibilities past the North Circular.

Before finding a company which will help you move to Europe you will have to think long and hard about what you need to take with you. Can it all be fit into a suitcase? Are you leaving all your furniture behind? If you're in rented accommodation, this is a much easier question to answer because it's unlikely you'll be taking the landlord's furniture. If the new flat (for example, in Poland) is unfurnished, you would save yourself a whole heap of money by buying the furniture in Poland instead, because of the shipping costs and also the price of things in Poland compared to London. You really have to really how astronomically overpriced everything is in major world cities, especially London which is the main offender.

If you can't possibly leave behind your possessions, there is certainly a need to find a great international moving service. One with a lot of repute and the lowest removals quotes available. Make sure you shop around for the lowest removal prices you can, otherwise you're going to end up making a bad judgment and paying far over the odds. For a move of this size, an overseas one, the prices will vary dramatically. Moving to Europe is a massive job, involving long hours. There's no estimating how much money it will cost the removal company to do it without knowing more information so the only option you can opt for is to shop around a lot. Find the average price by calling 10 companies, then narrow down the companies in the next 10 you call which beat that average. That way, you will find the lowest possible removal quote and save yourself a lot of money.

On long haul journeys, it is highly important that the goods are packed correctly. If they aren't, it's very likely that something will go wrong in transit. Hire the services of a professional packing service to ensure that everything goes smoothly. It's stressful enough moving home domestically, never mind hiring international movers to go long distances. It's best to keep your mind at rest, in full knowledge your goods are going to be safe and sound. What's more, you can find more energy to be excited about your brilliant new horizon in Europe.