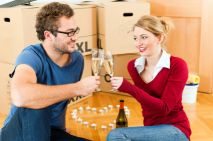 Moving to Wales
20 August 2014
There are big advantages to moving to Wales, and many people do every year. House prices are considerably cheaper than in the South East, London and the other major cities like Birmingham, Manchester, Leeds, Sheffield and Bristol. When you get there, the cost of living is much cheaper too. The transport links via train and the M4 make it very accessible: some people even commute to London for several days a week. In the north, Liverpool and Manchester are within very easy reach, with beach resorts like Llandudno and Colwyn Bay being within an hour or so of the cities along the expressway of the A55.

Of course one of the major attractions is the stunning countryside and coast. You have the delights of the mountains including Snowdonia and the Brecon Beacons, a fantastic range of beaches around Pembrokeshire, Cardigan Bay, Anglesea and Gower and lovely small villages and a rural landscape in Mid Wales. There are great cities with thriving culture like Cardiff and Swansea, then great towns to enjoy on the doorstep of national parks, including Brecon, Dolgellau, Chester, St Davids, Caernarfon and Carmarthen. Tons of history, a strong sense of national identity and culture, a reputation for friendliness (and of course the rugby) make Wales an extremely attractive area for those seeking to escape the rat race and have a quieter pace of life.

And the house prices are still falling. The House Price Index, compiled from actual sales prices by HM Land Registry, reflects this. Though the average price of a home in London stood in August 2012 at just over £364,000, the price in Wales is just below £153,000. That's less than half of the London value. And it's going down by almost 4%. Smart investors snap up land, smallholdings, farms and terraced houses, either as permanent residences or weekend homes. There are highly desirable beach or rural residences for a snip of the price.

If your business is movable or you work for yourself, you can pocket the money from the profits on your house sale and buy a great home in Wales, mortgage free, with a lot of cash left over. Some people call it downsizing, but this isn't really an accurate term, as many end up with much more land and a larger house. It's ideal if you want somewhere to start a smallholding, stable or a small business – with start up capital provided by your house sale elsewhere. People also appreciate the safety and small town feel, so it can be a great place to raise kids. In some areas, it still feels like a bit of a throwback to the 1950s, where children attend small local schools, and play out with friends in safety. Everyone knows everyone.

There are also some major job opportunities. Government departments and big corporations have recognised the lower cost of land and living out West, so there are some major employers. DVLA, the Royal Mint, Admiral Insurance, the BBC, Principality Building Society and many others have their hubs here. Development grants and EU funding has attracted a lot of companies. Historically, companies like Laura Ashley, Rachel's Organic, Ty Nant, Brecon Carreg and more have started and thrived here.

True, you can't snap up £30,000 houses any more – though that was still possible in the early 2000s. But there are still absolute bargains to be had and it's the differential between house prices elsewhere that makes it so attractive. Plus the lifestyle, lack of traffic and the scenery. Small wonder so many people are considering Wales for their next house move.