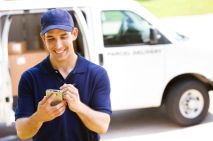 Moving to Paris during the Off-season
20 August 2014
Paris is a wonderful city, so culturally rich and with fantastic architecture as far as the eye can see. There's definitely a good case for wanting to move here, but there's a small problem with that; It's one of the most popular holiday destinations in the world, which means the airports, shops and streets will be packed with people, many of which that have the same idea as you.

Now, how does one get around this? By moving during the off-season of course. The off-season is the time of year where tourism is at it's lowest, and in Paris' case, it's during the winter. With less tourists around, there will be less lines and above all else, the prices will be lower. The prices will be lower not just because there's less tourists, but also due to the government regulated sales – one of the times where French stores are allowed to hold these sales is during January. Of course, one of the trade-offs of moving to Paris during this time is the milder temperatures, but it's a small price to pay for convenience.

If you're tempted by the prospect of relocating to Paris during the off season, here's a quick international moving guide to get you started;

First off, make sure your finances are in order. When you're taking out a loan for the move, be sure that you're confident that you can afford the repayments. Not only that, but be sure that you set aside money to hire the moving company, your flight / ferry and travel insurance for everyone and everything you'll be taking overseas.

One of the ways to raise extra cash for an international move is to sell off most of your heavier possessions, such as your furniture and white goods, and just re-buying it when you arrive. This is generally a good way to raise money because not only are you getting money from the sale of your possessions, but you're also saving on shipping costs by not taking these heavier items with you. However, if you plan to do this, be careful. Because while prices may be lower in Paris' January sales, a lot of furniture stores may have a shortage of stock. This is Paris, remember; one of the most stylish cities in Europe. So they take their furniture buying seriously. The bottom line is, if you're planning on raising funds this way, don't expect to pay a lot, but don't expect have a lot of choice either.

Go for a moving company that specialises in international moves when moving to Paris. This is a no brainer, but it's worth keeping in mind. A proper, international savvy moving firm will be able to give you the help and support you'll need when moving overseas. When hiring, however, be sure to compare prices and credentials before you set off.

When you're actually setting off, have everything with you. Not just your properly packed boxes and hand luggage, but also all of your travelling documents. Make a checklist of the following items; your passport, birth certificates, your proof of travel insurance and medical documentation. You're only guaranteed to need your passport of course, but it's better to be safe than sorry. Aside from that, bring your usual travelling items like snacks, blankets and bits of entertainment, and you'll be sure to have a pleasant journey.

So, now that the moving preparations are complete, all you need to do is make the trip to Paris. In the off-season it may look a little different, it'll be colder and have less tourists around, but that just makes you feel more like a resident. You can make the transition from English living to French living in relative peace. Until the tourists show up in the hotter months, but you'll be settled by then.