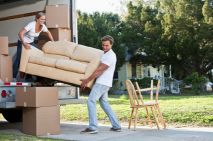 Moving to Marseilles for the First Time
20 August 2014
For first time international movers, Marseilles is a pretty good choice. It's a beautiful city overlooking the Mediterranean sea that is well deserving of its European Capital of Culture award. That award isn't just for show, either. Within the city there are many theatres and music halls, including the 'L'Opéra de Marseille', one of the most important Opera houses in Europe. The town is easily accessible from the sea, too, which makes it a wonderful place to visit or to move to. If you're tempted but haven't tackled an international move before, let this article serve as a guide. Let's get started.

Planning is the most important part of any move, especially for first timers. You don't want to mess any small part of the process up, from leaving some small possession behind to forgetting to bring an important document, you've got to make sure you get everything right.

When you're packing everything up, be sure that you note down all of the most important items on a checklist, and cross them off once you've packed them away. That way, even during the most disorganised packing, you can be sure you're taking everything you need. Be sure to check the French customs and excise page before you start your packing. You need to double check that you're allowed to bring everything you are attempting to. As a general rule as long as you're not trying to bring hazardous materials on the plan, such as lighter fluids and what not, you should be fine.

The same goes for all of the documents you need to take. Make sure you have the following with you; All of your family's passports (be sure they're all in date with an accurate photo) your insurance and medical documents, as well as your birth certificates. Make sure they're all relatively close to hand – a ring binder or folder is useful for this situation.

There's a lot of arranging to do as well. You've got to sort out your housing arrangements, your personal transport and you've got to hire a mover. Buying or renting a property in France is fairly similar to buying one in this country, except for obvious reasons you'll have to be more careful – don't commit to any paperwork unless you're one hundred percent sure you're happy with the arrangements. Other than that, it should be smooth sailing. The same goes for the transport, just arrange a flight as you normally would.

When hiring a mover Marseilles though, make sure you hire one that has experience with France removals, so they can help you through the process. Experience is one thing, good credentials is a whole different ball game. Only hire a mover with a good reputation and a good price point – do some research on the Internet to ensure you get the right company.

There's more to living in France than just the move, however. You've got to ask yourself before you move; do you have even a basic grasp of the language? If you don't then you really should get started on learning some key phrases before you make the move. Remember, if you're moving to France you'll be living in France, and that means you'll have to talk with your boss and fellow employees if you have a job in France, you'll have to speak to your children's teachers, you'll need to know what they're on about. Taking a phrase book with you is a good start, but you will have to be prepared to make more of an effort than that.

Other than that, you can just enjoy your new life in Marseilles. Let the Mediterranean climate wash over you as you go about your day to day life, and enjoy the unique culture that this seaside town is known for.