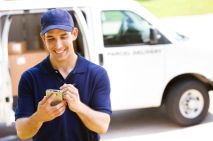 Moving to France? You Need to Hire Packing Services
20 August 2014
It's all too easy to underestimate the amount of work that will need to go into preparing and planning a move to France. In addition to making sure you have all your documents in order and are fully aware of the laws of the France when it comes to setting up a business, seeking new employment and registering as a citizen, you will also need to carefully organise your moving schedule to account for packing and moving all your household items. This is where a packing service can be a real help, and reduce the stress of your relocation to France considerably.

What do packing services offer?

Packing is one of the aspects of any move that can take the most time, and normally you will want to start packing as soon as possible. With an international move, you will probably need to start even earlier if you want to make sure you can get your items shipped to France on a schedule so your items arrive as soon as possible after you have travelled to your new home. This is where packing services can be of great help. By having professionals come in and deal with your packing, you can simply cross it off the list and focus on other things that need to be done. Also, packing services will employ professional packers that are fast and efficient, and know exactly how to pack your things so they are secure and safe for transport. This can potentially save you money on things that may get broken or not be packed properly if you are attempting the packing yourself, especially if you are rushing.

Another advantage is that you won't have to spend additional money on boxes and containers to pack with, as most companies will supply these for you so their packers can get to work without any delays. This means you are getting good quality boxes and containers that you can be confident will stand up to the rigours of shipping. Furthermore, you will probably be able to find international removal companies that offer packing services as part of a combined deal or offer, which means you can kill two birds with one stone and not have to worry about paying a number of separate companies when relocating. It also means that any special instructions you have won't have to be relayed a number of times to different people, so will save you invaluable time to focus on other aspects of your move to France.

Choosing packers

If you have dealt with removal companies before, then you should simply approach hiring a packing company the same way you would for a removal or man and van service. Try asking around friends, family and colleagues, especially anyone you know who might have moved to France recently, and find out if they have any experience with packing companies, and if so who they would recommend. It is often best to narrow your search down to a handful of companies you like the look of, and call around them individually to get some estimate. Most packers will want to come and take a look at your home and items to get an idea of how much work needs to be done, so you can normally expect to get a fairly accurate quote. Once you have the quotes, simply choose the one that is the best value for money for your individual relocation, and enjoy the fact that one of the hardest parts of moving to France will be dealt with or you by professionals.