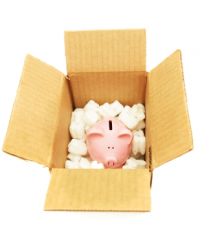 Moving from England to France
20 August 2014
France is only a Channel Tunnel's distance from England, so it's a convenient place to move to if you're hankering for an international removal. It's a popular destination for holiday makers and emigrants alike due to its warm climate, its rich cultural heritage and fantastic scenery and landmarks. There are a few things that you will need to keep in mind if you're planning on making the French's stomping ground your new home, though;

Get a grip (Of the language)

Although English is the secondary language on French soil, the language that everyone you'll be dealing with will be speaking is French. So as a result, you'll need to learn a good chunk of it. Start with a few common phrases, and work your way up from there. You may think that you can just get the hang of it bit by bit while you're there, but this is not advisable for one big reason; taxes and bills. How are you going to be able to deal with money related issues if you can't speak the first language? Going into France with an under-qualified tongue is a big risk that you really don't need to take.

Let the right people know that you're leaving

The process of moving to France is more than simply just going there, there's a few people you're going to have to get in touch with. Here are a couple of the more important examples;

The tax authorities of both countries is a good place to start. By letting them know, the income from your pensions and other benefits you may be entitled to will become easier to deal with. That, and you'll receive any medical cover that being a citizen of the EU will entitle you to. Let the Department of Work and Pensions know about your new address and bank account (when both are finalised), so they can make the relevant changes, and you'll get your pension paid into the right place.

There are other issues too, like if you're planning to retain your UK bank account while you're living in France (maybe you're only going to live there temporarily) there may be issues with your gross payments. Contact your bank for more specific information.

Hire the right moving company

This is a big one. Moving internationally is entirely possible without the aid of a professional moving company, but it's not advised, especially if this is your first time. An moving firm with staff that are experienced with the French moving process will be a great asset, and will help you every step of the way. Be sure you hire the right one though, one with a great reputation for quality and customer service. That, and they need to be reasonably priced. Though, if you come across a mover that offers a ridiculously low quote, then chances are that hidden costs will be coming your way, so stick with a mover that will give you an accurate quote on day one.

Move during the off season, or risk the crowds

France is a beautiful country with a pleasant climate, so naturally it attracts a lot of tourists. By doing your removal France on the off season (during the winter months) you can avoid the crowds and get yourself settled in without the huge queues that are inevitable during the late spring – mid summer months. The off season not only offers greater convenience, but it also makes you feel more like a resident. You can enjoy the sights and sounds without the hustle and bustle. It just makes sense.

Make sure every base is covered, and your Anglo-French move will be a complete doddle, and you'll be integrated into their culture in no time at all. Just take these tips into account when you're moving and everything will go according to plan.