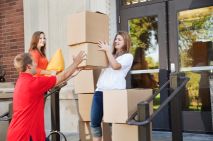 Move from Your Villa into the City. Get more Time for Your Family
20 August 2014
Tired of spending every weekend maintain the garden and repaint the house? Tired of having to take the car for an hour just to get into the city? Tired of having to renovate the house once again? Living in a house can be amazing, to be close to nature, playing soccer with your kids in the back yard, having a walking distance to the beach, but if you are sick of all this and long for the city. Why don't you just move into the city? Sell the villa and buy an apartment. Some years back the trend was to move out of the cities and out to the country side or suburbia. Now we do the opposite, we slope the villa life to live a metropolitan life. In town there is way more ways to socialize with friends in many different ways.

In the middle of the 1900s there was a migratory wave from town to the villa areas. Mother's would take the kids and stroller to the playground during the day while the father would take the car to town to work. Maybe this trend has changed when women started to become more involved in the working market. Life in a house, far from town, is becoming more and more complicated when both parents are struggling to get a job and family make ends meet. Suddenly you need two cars to get to work and to give the kids a ride to children's activities and shopping.

Family life in the city has many advantages. The proximity to the children's friends, activities, and parents' jobs erase the eternal driving to work, shop and activities which nature will gladly thank you for. Car costs disappear because now it is enough to rent a car if needed. If you live in the city you can take a bus or better up a bike. Instead of being a chauffeur you can now take that time to hang out with them for real. If you're moving to town, you will have more time to go to work and be home at a reasonable hour to spend time with your kids.

Families with older children now tend to move into the city. The gardens that were used to keep the trampoline or swings is no longer needed so many families tend to move into the city. Why shouldn't you? If you long for more time to spend with your family and to be able to have a spontaneous drink out with your colleagues, then moving into the city might not be such a bad idea.

Many people just want to live and with a house with a lawn you cannot just live. You will have to look after everything all the time; some people do that without even thinking and still loving it. But if you rather want to spend your weekends in the park or at a theatre, maybe the city life will suit you better.

With a full time job and housework with an active family the time may not be enough. If you are moving to an apartment, many of the "musts" on the to-do list disappears. You do not need to live right in the center of London, there are some nice places you can find right outside and still keep nature close to you and instead of being tied to house chores after work, you and your family can start to socialize in a completely different way.