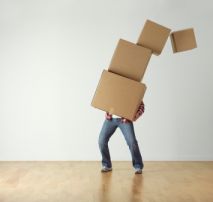 Money-Saving Ideas For Your House Move To W10
20 August 2014
Moving to the area of W10 means relocating to either Kensington or Queens Park. It's a fine area in West London, where you'd find many opportunities for you and your family. Before you can enjoy the rewards of your relocation though you need to plan the whole moving process and survive the moving day too.

One of the things that worry most families and single people who move to London is the costs of moving house, of packing material and moving services. It's true that this business has risen to a great extent and nowadays it's not that cheap to relocate an entire household. However, it can be more affordable if you know some useful tricks to reduce the costs.

Just like everything else, there are tips for saving money when moving house too. It's no surprise that millions of people move house every year – not all of them spend a fortune on removals services, do they? Shifting all your belongings from one location to another is a big step, a chance to start fresh and have a better life. If you are one of those people who move to London to upgrade their lifestyle, then you wouldn't want to spend a fortune on the move itself, but on renovating the new home and other things. Regardless of the reason for your move, you don't have to break the bank just for the relocation. Here are some of the best money-saving ideas which you can use.

• Moving boxes made of cardboard are part of the traditional way of moving house. This is not the only option though, especially when buying them new (in various sizes) is quite costly. Use plastic containers, cartons or recycled cardboard boxes. You could even rent them just for the move. Look for discounted rates online or go to a big department store and ask for boxes to borrow.

• Hiring packers saves time and energy, but it certainly doesn't save you money. If you want to save considerably, you should pack on your own. Call some friends and relatives and you can do most of the job within a single weekend. It's hard to pack various items and ensure their safety, but there are plenty of tutorials online which will guide you. Start packing at least a week before the moving day and start with the non-essential items. Prior to the moving day, pack a bag or a box for each member of the family, full of essential items, such as electronics, toiletries, personal documents, clothes and footwear. These will be necessary for the first days after the move, when everything you own will be securely packed.

• The peak moving season is the summer and it's the most expensive one. Move during the off season and you will skip the high costs. It will be easier to hire a reputable mover for that time, as demand is considerably less.

• Taking everything for the move will cost you a lot. Do a house clearance and get rid of those items you don't even use anymore. It's unreasonable to pack and move old and useless belongings.

These tips are all quite easy to implement, especially if you really want to reduce your moving costs and invest your money in your new home instead.