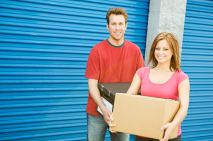 Man And Van Hire Saves Money And Time
20 August 2014
If you are moving house then you will almost definitely be wanting to save as much money as possible, and in this game, it tends to be the old adage that time is money, so you'll probably want to be saving as much of that as well right? It tends to be that you would be surprised how much you can get done by yourself, without the need for a fully sized removals company. If you are well prepared, then there is nothing that you cant do if you put your mind to it, so if you combine planning well in advance and using a smaller firm for the transportation, then you should be able to do things much more cheaply and efficiently than you ever expected. Man and van hire saves money and time, and this is exactly what you need from a small house move.

Even if you are moving a three bed house, there is not always the need for a removals company. You can now hire a man and van with transport of varying sizes, from a small transit to a truck, so be aware of this when you start planning your move. Should you give yourself time in advance to get things sorted, then you will likely have had quite a relaxed lead up to the move, as proper planning will mean that you can spend an hour a day packing and preparing, in order to make the move as fully sorted and easy as possible. This means that you have the time to call on some friends or family to come along and help out with the move. Having loved ones along to do some lifting and packing will make the whole process a lot more fun than if you are dealing with a surly team of removal men. It may be the case that your friends and family are extremely generous, and will help you out free of charge, but even in the case that you have to give them a bit of cash for taking the time out, it will almost definitely be less than you'd be paying for your removals service for the same job. If you are having a few people over to help, then promise them a big home cooked meal at the new place, as a sort of housewarming come thank you celebration. If you are a rubbish cook, then take them all to the pub for a few rounds on you!

Make sure that the friends who are helping you out are all up to the job, and are strong enough to lift the heavy furniture that you will no doubt be moving. The main thing is to make sure that those who are lifting are aware of how to do it responsibly and safely, as injury can often strike and the most likely place for it is in the back, which can be a long standing problem, lasting a long time into your later life.

When booking your van man, make sure that you know exactly how much space you need in the van, as having to do repeat trips to and from each property can mean that things get more expensive than you had bargained for. Be extremely aware of traffic in the area, especially if you are paying by the hour, as this is the kind of unforeseen factor that will drive costs up beyond that which you have saved by going for a smaller service.