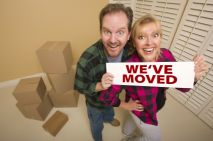 Long Distance Removals Require The Help Of Professional Movers
20 August 2014
Relocating is a stressful activity but when you have to move to another city or even another country, it becomes even more difficult to achieve without a lot of stress. This is why we advise you to look for a company which offers long distance removals. They will make sure everything runs smoothly and will take care of your relocation at every step. It is an affordable service and it spares you of a lot of stress and hassle. The easiest way of finding one is by using the internet, or if you have friends or family who recently moved, you could ask them to recommend someone. You may tend to believe that this task can be done without professional help, but you really can`t do it alone. Here are a few reasons for which you should hire professional movers for your long distance relocation:

• If you are moving internationally, a removal company will provide you with special packing supplies for your items. Moving abroad requires not only high quality packing materials but also experienced movers and good equipment. This is exactly why hiring a company is a good idea. They provide you with all that and you don't have to worry about anything related to packing, unpacking, loading, and unloading your goods.

• When moving long distances, transportation can become a real problem. If you choose to hire a removal company, they will offer you different transit options such as air, road and sea. On the other hand, doing it by yourself can turn to be really difficult as you will probably won`t have the means. And let`s not forget that you can`t manage to find something trustworthy, so a removal company wins again in this battle.

• Money is also another reason for why you should choose professional movers when you decide to relocate on long distance. Because you don't have the appropriate transit options, you will have to go back and forth at least twice which could cost you dear. And let`s not forget about other expenses which may occur along the way, like transportation and border fees. But if you hire a relocation company, you can be sure that the amount of money you will pay, will definitely be smaller.

• A specialist will also be able to offer you comprehensive insurance which is designed to offer protection, value for money and choice and which will also give you more peace of mind.

There are many reasons for which you should hire a removal company for your long distance relocation, but the main one is that this way you will reduce stress. If you ever moved locally, then you know how difficult and demanding this task is. Well, multiply that with four and you will understand how a long distance relocation if. Don't be stingy when it comes to your money, because if you decide to do it all alone, it may cost you at least three times more.