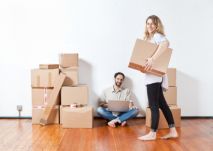 Important Packing Tips for Those Who Are Moving Often
20 August 2014
Almost every person loves travelling, but surely no one likes to pack and unpack and all other activities related with the preparation. It is though not possible to start for a journey or a vacation, without taking luggage with you. The same is in power when moving because of your job and career. In case you are not always travelling for pleasure and your work is connected with often going abroad, then you may feel tired even from the thought for packing. What will cheer you up are few important tips that will save you a lot of time and worries how to prepare your clothes and other things you would like to take with.

The article will also help you organize the process better, so you will not be in the annoying situation when it turns out you having forgotten something important to take with you.

The clothes usually take the most space from any type of bags that you have for the trip. No matter how large your suitcase is, why do not you learn a way to fold the clothes better so you can put more things inside? The secret is not in the folding, but in the rolling. If you still do not take it as a true, you may ask people you know and who are your close friends, who are also professional backpackers for example. The rolling has proved as far more efficient and practical, than the folding is.

The organization and the planning are essential. Your biggest problem is usually forgetting things, for which you have thought long before the packing started and still you have forgotten to take them. The trick is to make the packing list long before the time for the travelling has come. Add anything that has come up to your mind, because if you leave everything for the last moment, you will hundred percent sure forget it.

It is not wise to spend too much money paying for extra luggage. So do avoid this situation as you get well aware of the baggage policy of the airline company you will be travelling with. This will save you a lot of trouble at the airport and will let you have economic and rational packing.

In case you have not heard about the rule 3-1-1 make sure you read about it and you follow it carefully. It is mostly concerning the baggage you can take on the airplane. Do what is necessary and take only harmless things, so you will not finish with your things been confiscated.

You may feel it is the better option, but it is actually not that good idea to wash or dry clean the clothes before you go. Do that as you arrive in the hotel, as almost every hotel offers such services. Thus you do not have to make so much room for suits and watch for the clothes not to get wrinkles on them during the trip.

While you are thinking what to take and what to leave behind, focus on clothes that have multiple uses. For example this can be casual things that are both good for the evening and the day. This will surely save a lot of space in your bags.

To follow the advice with the layers is very wise step. You can wear many layers on you and thus you will be properly dressed for all areas you will be moving to if the move will be to a distant spot. And as you are wearing many clothes on you, you will need less room for the rest that have to be carried.