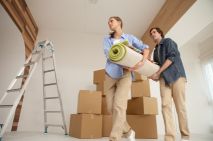 Get Quotes before Choosing the Removal Services for your France Move
20 August 2014
Moving to a new home abroad will of course be a very exciting prospect, but at the same time will require a large amount of planning and preparation, from making sure you have all the relevant documents in order prior to your move, to ensuring that you are familiar with the requirements that being a new citizen in France entails. Additionally, hiring the right international movers for the job will be key. Below are some tips on getting quotes and hiring international movers for a relocation to France.

Finding the Right International Movers
There are a myriad of international moving companies to choose from, and finding the right one may seem a daunting task. In order to narrow your search, it can be helpful to ask any friends or family that might have moved abroad, and even better to France, to find out if they have any recommendations for companies they may have used for their relocations. Failing that, searching online is often a good option, and you can also visit international or expat sites that may have trustworthy information on which international removal companies are the best. It is often better to go to independent forums for previous customer feedback about international moving companies, as you will generally get a much more reliable picture of how good a company is from real customers.

Getting Quotes
Once you have found at least three to four companies that seem to fit the bill, you should begin contacting them. It is also worth mentioning that you should start researching and then contacting international removal companies well in advance of your moving date to France – ideally at least a few months in advance, as this gives you some time to make other arrangements and look into more companies without the pressure of moving day looming overhead. Once you have decided on a few companies, then start calling around to get some estimates. Generally, estimates are fairly accurate, so you shouldn't expect to pay much over any quotes you are given. That said, you should also make sure you ask about any possible hidden extras that may result, and if you have specific instructions or moving requirements for certain items, make sure these are accounted for in your quote, so you don't receive a nasty surprise later.

Once you have a quote from all the companies you have shortlisted, you can start making a final decision. Doing things this way means that you not only get a much better sense of the overall price, but also find out which companies will offer you the best value for money. Do bear in mind that when it comes to moving to France, you will want a very reliable and trustworthy company, as they will probably have to ship your goods via sea, and this can take a number of days or more. Your items will be in their care for an extended period of time, so you want to make sure you are comfortable with the service. If you have any doubts, it can often be better to go with another company you feel more at ease with, as even if nothing goes wrong, worrying about the international removal company you have hired will only add to the overall stress of an international move to France.

Overall, follow your instincts, contact potential movers well in advance, and take your time with your decision. Approaching things this way will mean you make a choice that you are comfortable with and also getting the best value for money from.