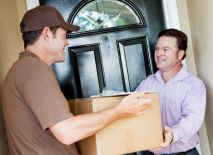 France Removals Require Serious Preparation and International Movers
20 August 2014
Moving to France is the ultimate prospect for may; the delights of the French Riviera, with its Mediterranean qualities of heat and wonderful beaches, or even the cosmopolitan joys of Paris, where you will find wonderful little delicatessens in amongst the beautiful streets and wide boulevards. The idea of moving to France is obviously a wonderful thing, but the idea of getting everything that you own over there in the first place can be so daunting that it puts you off the move in the first place! There are many things to consider when traveling across international borders, and whether to take your belongings with you can be a difficult decision to make, especially if you don't really plan on coming back! France removals require serious preparation and international movers if you do decide to take your household with you, so have a look through our thoughts on the matters below.

Firstly, where are you headed? If you are moving from a house in the English countryside to a flat in a Parisian street, then you will be lucky if your furniture fits in the new place, let alone makes sense in terms of style and decoration. Obviously only you can know and decide on this, but there is often a lot of reason for selling everything that is bulky or cumbersome and enjoying the process of spending the money you get for them on new stuff in Paris' famous vintage furniture markets and antiques shops. This will save you a huge amount on shipping as you will be able to pack your clothes and smaller, lighter things that you will need into regular boxes and have them couriered or posted for cheap. If you feel like you can't part with your larger furniture, then there is a lot consider in terms of getting it all over to France, and one way of making the ordeal less stressful is to hire an international mover. Getting the right international mover depends on a number of factors. You need someone who is available at all times to answer your questions, as well as a huge amount of knowledge and experience in the field. There is a lot to be said for having someone who can tell you that it is better to load up a shipping container and have it put on a train to France rather than air freighted, as to be honest, it's just not the kind of thing that us regular people know about!

When finding your international movers, have a look on independent reviews sites for the best testimonials and average scores from previous customers, as this will give you an invaluable insight as to how well the company will act on your behalf. It is essential that you know exactly how your items are being treated at all times, as you will be spending so much time away from them while they are being transported that it can be impossible to know whether you're in safe hands. Reassurance from the company itself will rarely be enough to calm any nerves that you may have. Getting to hear about other people's real life experiences with the companies will give you that little bit more confidence in your decisions however, if they are good! Look for reviews that suggest that the company are consistently high quality, and avoid any that get more than a couple of remarks about being lazy or late, as you will not want to be dealing with any company who will put your items at risk.