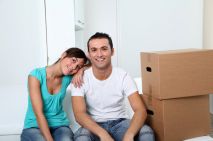 Essential Tips when Moving House
20 August 2014
When getting down to starting to plan a move, the whole thing can seem pretty terrifying. There are so many things to consider, and in that alone there are equal amounts of things to get wrong! When settling down to think about the process, it is often handy to have a moving checklist to make sure that you are on top of everything from the outset. With our easy to follow list of things to keep in mind, you should find that moving need not be as scary is it seems at first.

1. Get to know the place you are moving to. Getting started with planning the move a good month or so in advance (if it is a big one) is advisable, as you will come to terms with the amount that needs to be done, and will not be stuck for time. The first thing to do is to get a look around the place you are moving to and check out what work needs doing. If the house is vacated then it means you have ample time to arrange for a specialist to come in and get the work done. Having the boiler tested and all of the electrical appliances looked over will give you the peace of mind that nothing is about to go wrong as you move in to your new place. This is also a great time to get some redecorating done, as there is no expensive furniture to get paint and dust on!

2. Measure up the size of the move. Go around the rooms in your current place, and image how many boxes everything will go in to. This will help you ascertain the size of your move and what you need to get moved. Understanding this will help you considerably with booking your removals company, as you will know the size of the job and the type of van you need, and can avoid being overcharged for services that you do not require.

3. Have a yard sale or go to a car boot sale to get rid of anything that you do not really want or need in the new place. Pricing things cheaply is a good way to get rid of everything quickly, and make a few quid on the side…

4. have a few conversations with the person who will be the head of your removals team. You should have a good relationship with the team, and this individual will be your go between. Plan out the move very specifically to make sure that it will fit in to the allotted time. Some moves may take a couple of days, and some may take a morning, it depends on the size of your house, the distance travelled and how prepared you are.

5. Draw up a plan of the new place and sketch in where the heaviest items go. This will prepare your team for the job in that they will be aware of how difficult things will be, and what they will need to get it done. It will also save time on the day as they will not have to ask you where everything goes.

6. Write the destination of each box on the box itself, and mark each room with the corresponding name, this will help your team get everything in place and save you a great deal of time and effort later on.

7. RELAX! Getting stressed and panicked will only raise tensions and may mean that you fall out with your family or the removers. You need to keep everyone on side during the process or it will be even more of a nightmare!