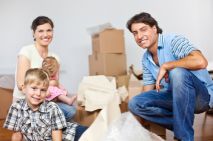 Choosing The Best Company For Your Removal To France
20 August 2014
Moving to another country, especially one with a different language to your mother tongue will bring up a load more issues than a normal move, which can be a difficult process in the first place. Having to worry about the ins and outs of getting things shipped overseas, as well as the arrangements associated with that being in a different language can be one stress and strain too far. I don't presume that you have any ideas as to the maximum weight allowances on a train carriage, nor the better option between air and land freight when moving a dining table, and it is for these reasons that you will need a removals company who are well versed in international shipping to complete your move with efficiency and ease.

If you are concerned with the costs associated with hiring a removals company for your move to France, then you should give some thought towards the costs of sorting out a problem should you get anything wrong while you are organizing things on your own. Sure, it may not seem like that big a deal, just getting a shipping company to pick up your things and then dropping them off at the destination, but it is things like timings and weight limits that you will not know about that will cause you problems in the long run, and result in expensive mistakes that you will have to pay loads to rectify.

Choosing the best company for your removal to France will be the result of a fair bit of research, but this home work is worth it's effort, as the savings in terms of money and time is what will make your move that little bit more enjoyable, letting you get excited about moving to your new place in France!

Start by finding companies as local to you as possible, as this will mean that pick-ups are made quicker and easier. You will often find that larger companies will have branches in most areas of the country, so you will still have a fair few options to choose from. Ring round each company that you find to make sure that they can work to your dates and that they can accommodate your needs when it comes to the size and distance of your job. Some companies will be more adept to larger jobs, while others will be more involved in small moves, so be sure that you are only dealing with companies that will be able to do the job you need them to.

Once you have a handful of companies who are perfect for your needs, you will want to run their names through a few independent reviews sites, on which you should hopefully find customer testimonials as to how well the company performed for them. The firm will be given a score out of ten, which can show you clearly how well each one compares to the others. The actual testimonials section will give each customer's individual thoughts on their service, so you can pinpoint the positives and negatives within each company. You should be looking for consistently good reviews that show that the company has no risk involved in hiring them, as you cannot afford for anything to go wrong while your beloved items are in transit. Obviously, one bad review in a hundred great ones can be ignored, but if there are a few good and a few bad, then the odds are not stacked in your favour, as you will likely be paying for any mistakes yourself!