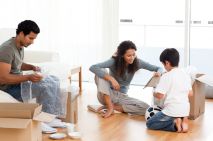 An A to Z Storage Guide
20 August 2014
If you are about to be using a storage facility or a storage service of some sort, you may be concerned about the procedure, especially if you have never used a storage facility before. There are a few things that should be done before your items are put into storage and if these are not done then you could cause damage to your belongings or could even break them.

This article aims to highlight all the things that need to be done before your items leave your property, during the transport time and once your belongings arrive at the storage unit.
Remember to plan, plan and plan before you start doing anything. Planning is the key to anything, including getting your items into storage. Before manually doing anything, you need to decide which items are and are not going into storage so that you have an indication of how much space you require at the storage unit.

It is then time to look for an appropriate storage company that accommodates your needs and can offer storage units big or small enough for your needs (some companies may only specifically deal with large items so it is always wise to double check).

There are a few other things that you need to plan and prepare for. For one, you need to decide how your items are going to arrive at the storage lot. Whilst some storage lots may offer to pick up your items, you need to remember that the cost of this will be added to your invoice. An alternative option would be to hire a van, which can be cheaper in some cases. Alternatively, you can use your own vehicle or a friend's vehicle to transport your items there.

It is now time to start packing. Make sure that you always have enough packaging materials at hand to avoid being held back during the packing process.
Remember that large items such as furniture are best stored when they are disassembled. This makes transport and storage a lot easier and less space consuming. Smaller items should be packed away into boxes to avoid losing anything during the transport process.

Make sure that extra protection is provided to delicate items such as glassware, electrical items etc. This can be done by using specialised boxes with thick walls or simply by wrapping the items up in bubble wrap.

When it is time to load the vehicle that you are going to transport your boxes in, there are certain things that you need to remember. First of all, always ensure that larger items and larger boxes are loaded first. If there are items that are more likely to fall or slide whilst being transported then you can always use rope or a harness to secure them.

When you arrive at the storage unit, make sure that you report at the office in order to get your keys and the code required to access your certain storage pod/unit.

When you unload your vehicle, ensure that you pay attention to items that are delicate. You may be able to hire a service that helps you with your unloading needs. There are always services that require you to do nothing. A professional comes and will unload your vehicle and place your items into storage appropriately.

If you are unsure about how your items should be placed into storage, always ask to avoid making any mistakes that may jeopardise the safety of your items.

Knowing what to do when you are preparing to put your items into storage can be a little complicated but hopefully this article has answered any questions that you may have had.