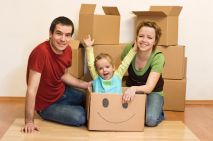 A Guide for those Thinking of Moving to France
20 August 2014
There are a wealth of job boards, sites and services to get you living and working in France. But if you're still in the initial stages of wanting to relocate to France, it's time to get realistic with your job options. Are you fluent in French, do you have a wealth of experience or knowledge in a niche field? If not, it is not a problem, but for those looking to move with a family, there is a lot of pressure on the breadwinner to find a job which will support the whole family, and without the above skills, it's a lot more difficult.

However, for those that have minimal responsibilities there are plenty of options for moving to France, even if you have a fairly poor grasp of the language. Nannies are in high demand, and can offer a live in position, similarly with classroom assistants in private schools; many don't require French language skills. For hotspots such as Paris, it may be possible to find work in hostels and bars, expect long hours, poor pay and unreliable work, but for those brave enough to book a flight and go, it's always worth hitting the streets, CV in hand.

Those that are fresh out of University might want to look at undertaking an internship. It's a fantastic option for those that have a good education but little to no work experience; it gives you the opportunity to experience life in France whilst filling your CV with valuable work experience.

Moving
Once you've secured your dream job, you should seriously consider the logistics of actually moving to France. An international move may be pricey, but there are a few top tips to make the transition smooth and in budget.

Do you really need to take all that? Is it possible you could survive on the essentials until you're completely settled and committed to a new life in France? It may be best to pack a few suitcases with clothes and a few reminders of home, everything else could be kept in storage. There is a realistic possibility that the move to France might not be everything you imagined, in which case it would be terrible if your life in the UK had been sold or given away. All those extra bits and bobs can always be shipped over when you're positive that moving to France was the perfect decision.

And before you consider putting the For Sale sign in the garden, is it necessary? If you have a good support network back home, you could rent your home, which means you cover the mortgage and keep your options open. This for many may not be a realistic option, but anyone who could financially afford to not sell their home should seriously look into this option. It would be best to have a group of friends and family close who could provide assistance to any tenants, and provide you with peace of mind.

Settling in
Use the period of settling in to your advantage, don't allow yourself to copy your lifestyle back in the UK, and always try to do as the French do. Mingle with colleagues and build of a social circle of expats, try local classes, visit local bars and join in groups to fully immerse yourself in the local community. Sign up for a language school if French is not your forte and generally get stuck into your new life abroad. If it turns out it's not for you, you would have tried your best and had a unique experience, if you fall in love with your new home, then it was obvious that moving to France was the best thing you could have done!