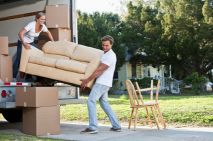 The Ealing Move – Smart Packing Tips
20 August 2014
If you are moving to the area of Ealing, in London, and you are dreaming of an easy and quick relocation, make sure that you read the following advice on packing and preparation which will give you a clear idea on what you need to do. Since the packing stage is one of the hardest and quite time consuming ones, you need to make sure that you are ready for it. If you are packing on your own, call a few friends and arrange a day or two when they can come around and help you. This will considerably speed up the process even if they don't have much experience with packing and moves either. Each helper should pack box by box and room by room and have a list of inventory to tick and a marker to label the ready boxes.

Packing is one of the most important stages of your move, which will ensure the safety of your belongings on the road or in storage, so it must be done properly. Packing cannot and shouldn't be overlooked as it will determine the success of your move and the safety of the things you own. Moreover, packing on your own doesn't have with insurance, so if there is an accident you won't be able to cover the loss. This means that you need to be extra careful and handle the items with care. You will need quality packing material and even the smallest move requires the basics:

• Cardboard moving boxes that are sealable and sturdy: small, medium, large and extra-large. The number of boxes depends on the size of your home, but usually you will need between 5-7 small boxes, 4-5 medium ones, 5-6 large ones and at least 3 extra-large boxes.

• Rolls of bubble wrap for the fragile items and the electronics – this is the ultimate packing material these days, so make sure you get plenty of it, if you can afford to.

• Stretch wrap for just about any piece of furniture and for the appliances.

• Moving blankets for the large furniture.

• At least two dollies for carrying all the boxes and the furniture to the moving truck.

• Plain paper or newspaper for cushioning and padding.

• Special boxes: for electronics, paintings, artwork, lamps, china and glassware, clothes, etc.

When it comes to packing, there are some smart tricks which will save you material and space. One of them is to wrap fragile items in linen, instead of bubble wrap. This will ensure ultimate protection inside the boxes. Fill the voids in between the items with crushed newspaper, but be careful because the ink might stain some surfaces. When moving the major appliances, use tape or a strap to keep their lids and doors closed. Pack items of one type together, don't mix fragile and sturdy items in one box. Tick the inventory as you pack and label the boxes according to the box they go to. This will save you time when you start arranging the future house and unpacking. Remember that within the truck what could move, will move, so each box should be packed up to the lid, the items need plenty of cushioning, but also make sure you don't overfill the boxes so they could still be easily lifted. Use stretch wrap and moving blankets for the heavier appliances and don't tilt them too much when placing them on the dolly. These easy to follow tips will ensure an efficient house move.